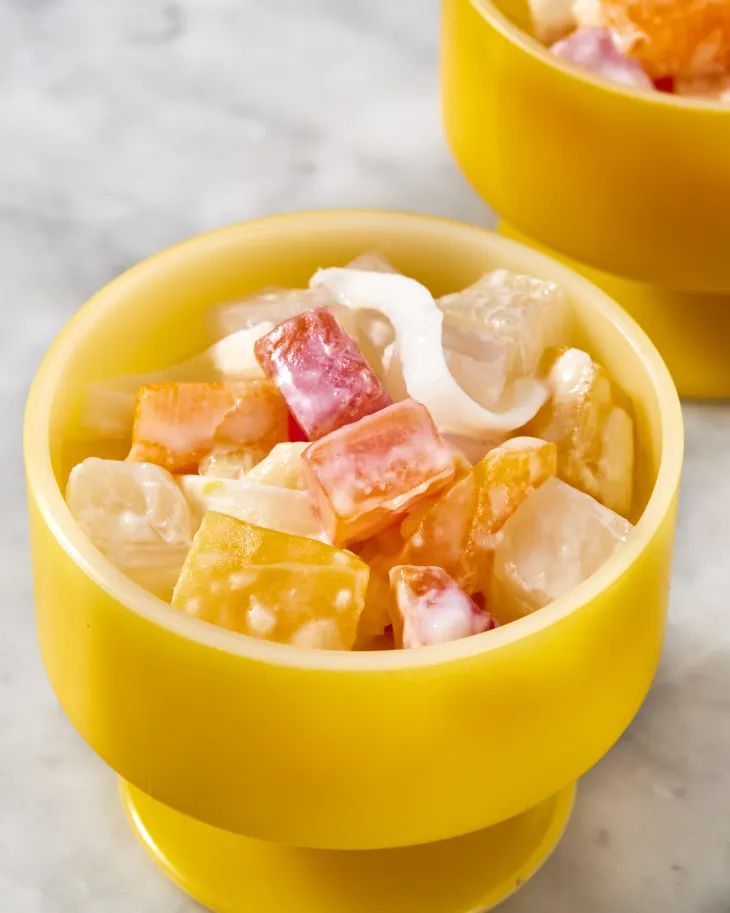 It's impossible to imagine a Filipino event is complete with our traditional fruit salad, an incredibly creamy and delicious concoction filled with juicy fruits covered with sweetened condensed dairy. As a child, my mom took fresh fruit to every birthday, graduation, and holiday celebration. It's her favorite sweet that she's gradually refined over the years.
There aren't any strict rules regarding Filipino fruit salad. Apart from canned fruits or sweetened condensed dairy, there are no identical fruit salads. This recipe is a reinterpretation of my childhood eating.
Ingredients You Need to Make Filipino Fruit Salad
There are numerous diverse varieties of fruit salad there. The rest can be made entirely custom if you use a mixture of canned fruits and sweetened condensed dairy.
Canned Tropical Fruit Salad. Typically, it is prepared by blending canned fruits (peaches, grapes, pears and cherries, and pineapple). However, I have tried a recipe that included cans of fresh tropical fruits with soft pieces of papaya, pineapple, and guava that I found delicious. This recipe calls for a tropical fruit salad. However, you can also make a fruit cocktail or a mixture of both.
Peaches canned in juice. My mom alternates between adding canned peaches and the fruit of her choice to make a salad. I suggest peaches as they've been my favorite lover of their soft sweetness. If you'd like to taste, use pineapple chunks instead of peaches or substitute with a similar amount of mandarin oranges or lychees.
Frozen young coconut (kinayod na buko). This is the soft and delicate flesh that young coconuts have. It is usually located in the frozen aisle of Filipino supermarkets. If you cannot find it, try the bottle or jar of macapuno (also called coconut sports string) grown from various coconuts with an emulsion-like texture.
White nata de coco (coconut gel). A Filipino specialty, these transparent chewy cubes are made of coconut water that has been fermented.
Nata de pina (pineapple gel). Jelly-like cubes derived by fermenting pineapple juice. When you're having difficulty locating it and unsure where to find it, try using a different container of Nata De Coco to replace it (the more you have, the better), or skip it altogether.
Condensed sweetened milk. The backbone of Filipino fruit salad is the source of its creamy sweetness. Compared to other recipes, I like using less liquid so the fruits are well coated with"sauce" instead of getting soaked.
Sour cream. Many recipes call for heavy cream or cream cheese. My mom has always prepared her fruit salad using soy cream, and even while I'm biased, I think it's the most delicious. The tangy flavor of sour cream offsets the sweetness of the condensed milk.
How to Make Filipino Fruit Salad
From beginning to end, the dish for Filipino fruit salad consists of just three steps to complete in just 30 minutes (most of the time, it's not active preparation!). Start by opening the cans and jars before the ingredients in the large filter. Draining the fruit helps remove moisture and ensures the salad is creamy instead of soupy.
Combine the sweetened condensed milk and sour cream in a large mixing bowl. Add the drained fruit. Cover, then refrigerate until the mixture is thoroughly chilled. Once it's cold, serve yourself the bowl- it's ideal for mid-afternoon snacks or an easy dessert.
INSTRUCTIONS
Place 1 pound of frozen young coconut in a bowl in the sink. Let it sit in the room at room temp until it has thawed in 1 1/2 to 2 hours. Alternatively, place your colander inside a bowl and let it thaw overnight in the refrigerator.
Remove two (15-ounce) cans of tropical fruit salad, 1 (15-ounce) peach chunk from the can, 1 (12-ounce) container of Nata de Coco, and one (12-ounce) can of nata pina over the coconut that is still young inside the same filter. Allow to sit for 30 minutes.
Add 1 cup of sweetened condensed milk and two tablespoons of sour cream in an enormous bowl. Whisk until smooth. Add the fruit that has been drained and coconut, and mix until thoroughly blended. Refrigerate and cover for at least 2 hours or up to a day before serving.