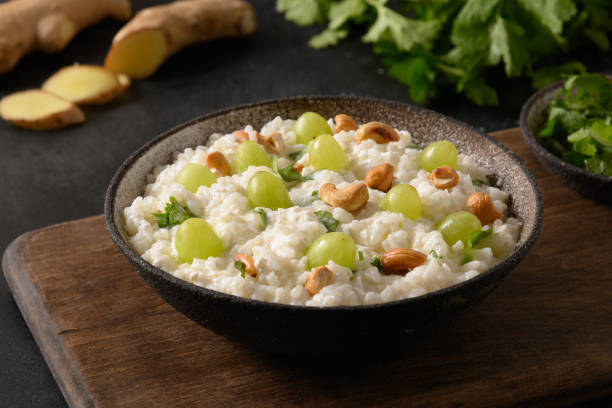 Gingernut, even though it belongs to a highly connected European collection of spices-infused biscuits, which also contains more festive gingerbreads and pepper notes, remains an excellent workhorse baked good that is a daily dunker, not an occasional treat for the weekend.
It's the type of simple biscuit you can find in a tin of office supplies, but that's not to say it isn't good. Indeed, a couple of years ago, it was dubbed the best dunker in a semblance of a scientific study. This name could be the most unusual feature of the recipe in question; it is a shorter version of the gingerbread nut that was initially used, which refers to the fact the original gingerbread biscuits were generally smaller and rounder than the modern versions.
However, even though the purchased version will always have some nostalgic appeal following our recent triumph with the formidable digestive, I'm sure it's possible to do better. Even the most humble of biscuits is worthy of affection, after all.
The Spice
I invited a larger tasting panel than usual, using the massive crowd of enthusiastic food journalists to carry out the duties; the consensus was that many of the biscuits weren't spicy enough. If you can forgive the image, everyone wanted some zing in our biscuits. Delia Smith and Mary Berry's biscuits were a bit gentle. Ginger should be the prominent flavor, but a small amount of cinnamon, nutmeg, and allspice can all add to the delicious sweetness. It's not impossible to overdo it. Mrs. Beeton incorporates plenty of spice into her cookies that can make quite a few people cough.
Sugar
The soft brown sugar has become very popular in Beeton as well as Justin Gellatly's Bread Cake, Doughnut Pudding along with Claire Clark's Indulge, which uses dark muscovado as well as Berry opting for a lighter version with demerara. Only Smith sticks are made with white sugar. While I love its rich taste, the muscovado's moisture content makes the biscuit too soft to be ginger nuts. Demerara offers a different flavor than Smith's granulated yet still provides that satisfying crunch. Instead of Gellatly, Smith, and Berry's golden syrup, Treacle takes control of the bitter side of the drink.
Flour and fat
Many recipes, however, use self-raising flour even though soft and airy aren't the only words I'd use to describe a good ginger nut. However, adding bicarbonate to soda can help make the biscuits brown. Most gingernut recipes are lubricated using butter, but Clark and Berry also use eggs that have been beaten. This is precisely the type of ingredient that is heavy on moisture I'm trying not to use.
Extras
Beeton suggests including candied peels in her biscuits. This is an excellent match for the spices. However, we prefer Gellatly's stem ginger, particularly the crystallized type, which gives some crunch and a bit of spice. Clark Sprinkles her biscuits with sugar before baking. However, I haven't noticed this in the final product. Clark also likes to dip them into melted chocolate, which I am hesitant to believe will give them an unfair advantage in a competition that won't be about chocolate.
Baking and slicing
Whatever their walnut-shaped origins, the modern ginger nuts must appear flat, as in Smith or Gellaty's, rather than puffy like Berry's. This is why they snap easily between teeth instead of being soft and fluffy inside. They're more like cookies, which are tasty but not exactly what they are. The dough is chilled before making it into shapes, as Gellatly and Clark's recipe recommends, making it easier to shape and bake. In contrast, a lower, slower baking time, such as Gellatly's 20-22 mins for 140C (gas mark 1) instead of Smith's 10 minutes in 170C (gas mark 3.5), is believed contrary to logic but can produce a crisper product which could be because the biscuits get time to bake before they brown over the top.
Mix the flour bicarbonate of soda, the flour, and the other spices in an enormous mixing bowl or the stand mixer bowl, ensuring they are well mixed.
Incorporate the butter. When making it by hand, rub it in before adding the other ingredients to make a dough. If you're using an electric mixer (which is easier), add the sugar, butter, and Treacle, and mix until it is well-combined, and then add the ginger crystals.
Make a homogeneous dough, roll it out on a lightly floured surface until approximately 1cm thick, then wrap it in clingfilm and chill for 2 hours.
The oven should be heated to 140C (fan)/160C/gas mark 3. Cut the biscuits. Lay them out, evenly spaced on two buttered and lined baking trays. Bake for 25 minutes.
Let them sit on the tray to cool for about 10 minutes, or until they've firmed up somewhat, before transferring them onto racks on wires to let them cool completely.
There is a valid reason it is not to be a part of The Guardian.
Many cannot afford to buy news at this moment. That's why we make our information available to all, even those living in India. If you are one of them are one of them, then continue reading at no cost.
But if you can do so, you have three excellent reasons to help us now.
Our quality investigative journalism is an examining power at a time when the powerful and wealthy get away with ever more.
We are independent and do not have a billionaire owner in charge, so your cash directly fuels our work.
It doesn't cost any money and will take less time than required to read this message.
Support the Guardian's journalism in the next few years regardless of a modest or more significant amount. If you can contribute, please donate a month-long amount starting at only $2. Setting up takes just a few minutes, and you can relax.